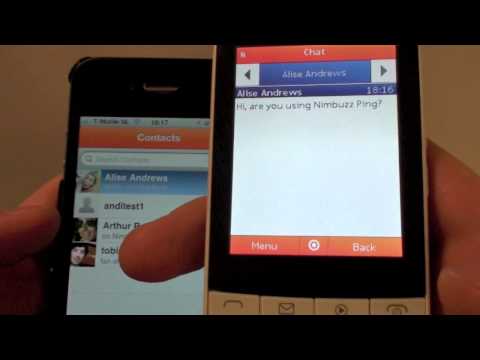 Not everyone owns a smartphone.
As a matter of fact, there are 4 billion "feature phones" in use today. But not every feature phone allows you to stay connected to your friends the same way smartphones do.
That's why we launched Nimbuzz Ping!
Nimbuzz Ping let's you receive free text notifications when Nimbuzz friends are trying to connect with you. You will appear online to your friends even if you have Nimbuzz turned off on your mobile phone.
Nimbuzz Ping works on all Java and Symbian mobile phones. Simply activate Nimbuzz Ping in your Nimbuzz Settings by verifying your phone number.
You will receive free text message (SMS) notifications whenever someone is trying to connect with you. It is up to you whether you want to start Nimbuzz to call or chat for free.
From now on you will no longer miss Amy's friend request, Ben's chat message, or Claire's photos.
Nimbuzz Ping is completely free. Not only do you save battery power, you also don't need to buy an expensive smartphone to stay connected.
Make sure you have the latest version of Nimbuzz installed and check if your mobile network operator (provider) supports it by looking at our list of partners.
We are launching Nimubzz Ping with Telkomsel in Indonesia and will roll it out to other networks soon. For more information please visit the Nimbuzz Ping FAQ page.
If you would like to be notified when Nimbuzz Ping will be available for your operator sign-up here.
Turn your phone into a smartphone with Nimbuzz Ping and stay connected to your friends!